Free 120x240 Vertical Ad Worldwide Web Promotion
Multi-Banners has 14 120x240 Vertical Ad Plugs to promote Your Site!
Ads to Kid-Safe Family-Friendly Websites ONLY are allowed at Multi-Banners Plugboard!
(Please use 120x240 Image Ads ONLY! Distorted and Wrong Size ads subject to removal.)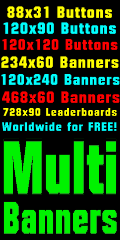 Multi-Banners Home | 88x31 | 120x90 | 120x120 | 234x60 | 120x240 | 468x60 | 728x90 | Links | Partners | Sitemap
Multi-Banners content is Copyright © 2011-2017 by Carolina Web Marketing & Promotion. All rights reserved.